The southernmost villages of France
are hiding in the hills of the Fenouillèdes…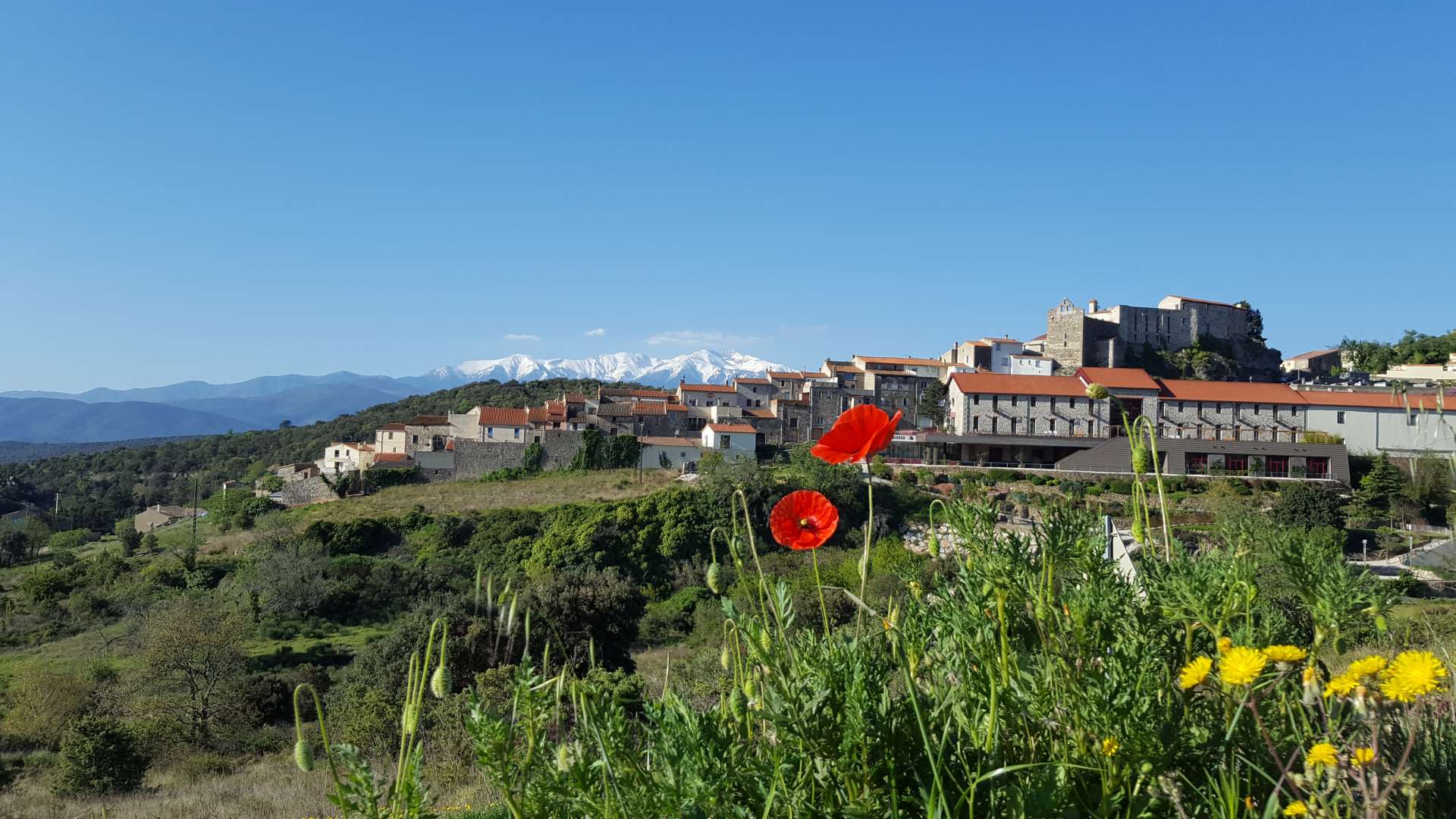 …
and right in the middle, in a fantastic secluded location

: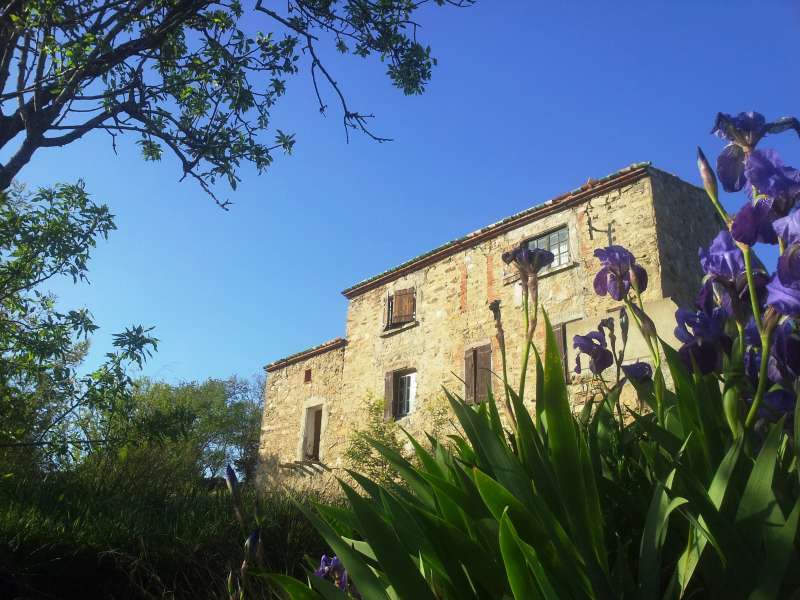 Not far from Perpignan in the middle of the Fenouillèdes, where the view from a gentle hill sweeps from the Mediterranean to the Pyrenees at the same time, that's' where we are resurrecting almot ten hectares of ancient agricultural terrain from a sleeping beauty's rest.
 Right in the heart of it, in a marvelously secluded location a more that 150-year-old farmhouse:
The Mas Baillette
The Pyrénées-Orientales in Languedoc-Roussillon in South of France
The Pyrénées-Orientales (engl. Eastern Pyrenees) are located in the south of France, in the area of Languedoc-Roussillon. The region captivates with its beauty as well as its scenic and cultural diversity. Here mountains encounter the sea, wine meets up with oysters and truffles, Catalonia touches Occitania and France touches Spain.
Here mountains meet ocean, wine meets oysters and truffles, Catalonia meets Occitania and France meets Spain.
But what does that mean? Well, there is simply something to enjoy for everyone!
Relaxing vacation in the spicy-scented backlands of southern Europe within sight of the high mountains and the Mediterranean: comfortably put your feet up amid of authentic French country life?
Cultural vacation in a region with a turbulent prehistoric, Greek, medieval, Aragon, Mallorcan, Catalan, Spanish and French history?
Active vacation with windsurfing, kiting, snorkeling, fishing, racing bike, mountain biking, hiking, climbing, canyoning or skiing?
Indulging into culinary delights of a wine region between France, Catalonia and Spain as well as between the mountains and the sea? That could mean for example enjoying fresh oysters by the beach in the morning and then go searching for porcini mushrooms or truffles in the afternoon. Our two neighboring villages have hardly 300 inhabitants, but each has a star restaurant!
Swimming at a wide sandy beach, at the rocky coast, in romantic karst gorges or wild thermal springs?
Open space for children close to nature: climbing trees and rocks, wild fruits, flowers, animals, swimming, nature, nature, nature and no traffic!
2,500 hours of sunshine a year make the hearts of sun worshipers beat faster!
Central location: half an hour to the sea, half an hour to the mountains, two hours to Barcelona and in the middle of the vineyards!
Our goal is to combine an agricultural permaculture with ecologically sustainable life and tourism in order to create a Mediterranean paradise for relaxing & enjoying for ourselves, our families, and our guests.
Those who are looking for peace and loneliness will equally find a space with us as those who would like to use the Mas Baillette as a forum for exchange and learning.
We now would like to take you on a journey to our vision. Parts of it are already reality, parts in implementation, parts in planning and parts still in the ether of our dreams. Please keep in mind that it will take a few more years to implement everything.
If you would like to be informed regularly about the latest developments, just subscribe to our newsletter!
The goal of permaculture is to build a holistic, sustainable system of agriculture and living space.
For us, this is reflected above all in the active discourse with the aspects of circular economy, durability, energy self-sufficiency and waste prevention in our planning.
The particular focus of permaculture is not to intervene in nature in a short-term corrective manner, but rather to support the ecosystem in the formation of a stable cycle.
In addition to the sustainable regeneration of the topsoil, we also focus on avoiding artificial fertilization and avoiding excessive artificial irrigation.
We want to heal the sins of past generations and preserve and protect the nature that has regrown in shape of Garrique and Macchie. In this way we would like to create a harmonic coexistence between agricultural landscape and wilderness – which will be beneficial for the soil and above all for biodiversity.
On our diverse types of soils, amongst growing fruit and vegetables, we are especially focusing on a kind of tree which has been thriving in this region for ages – and that without artificial irrigation and fertilization.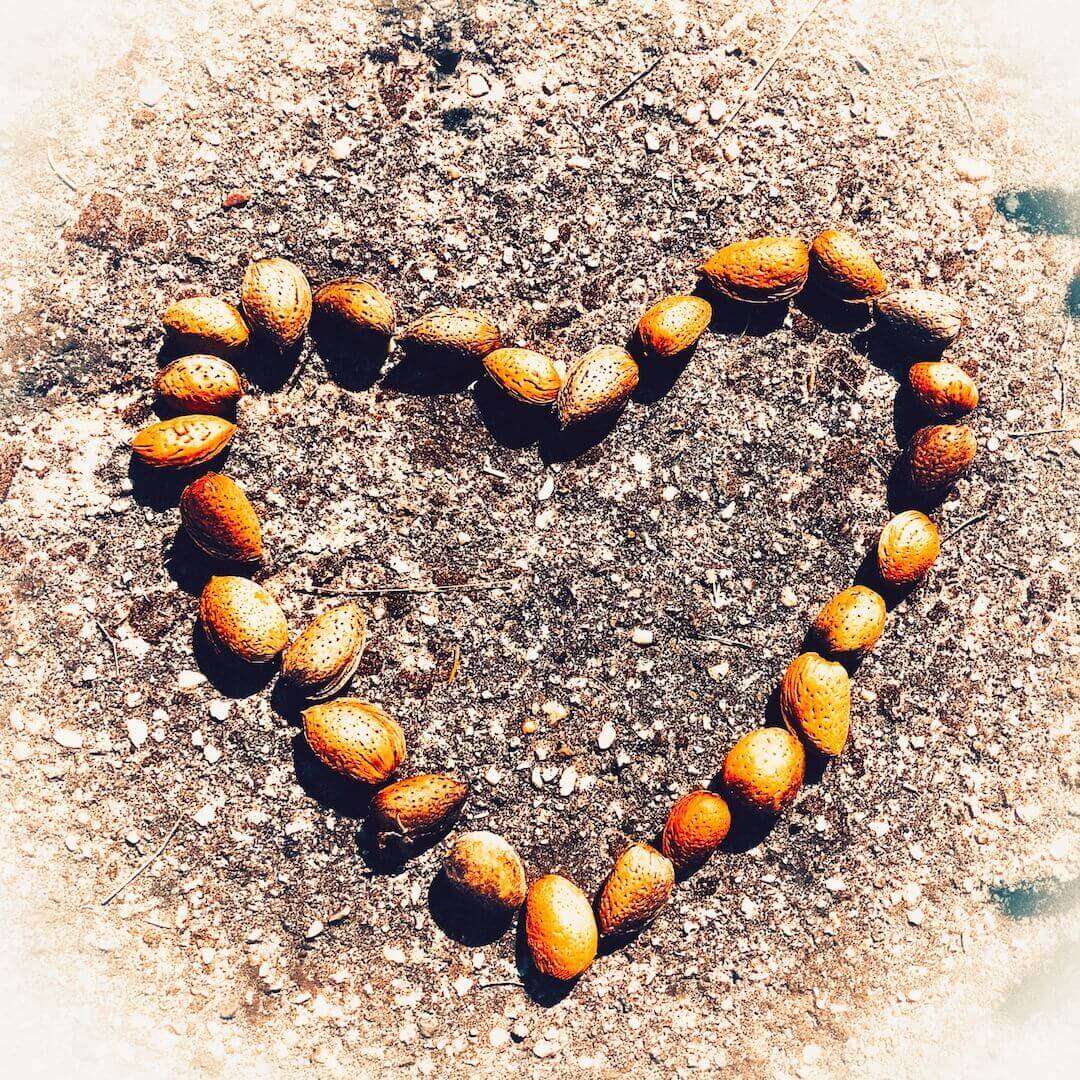 Ametller in Catalan
Amande in French
Almond in English
Mandel in German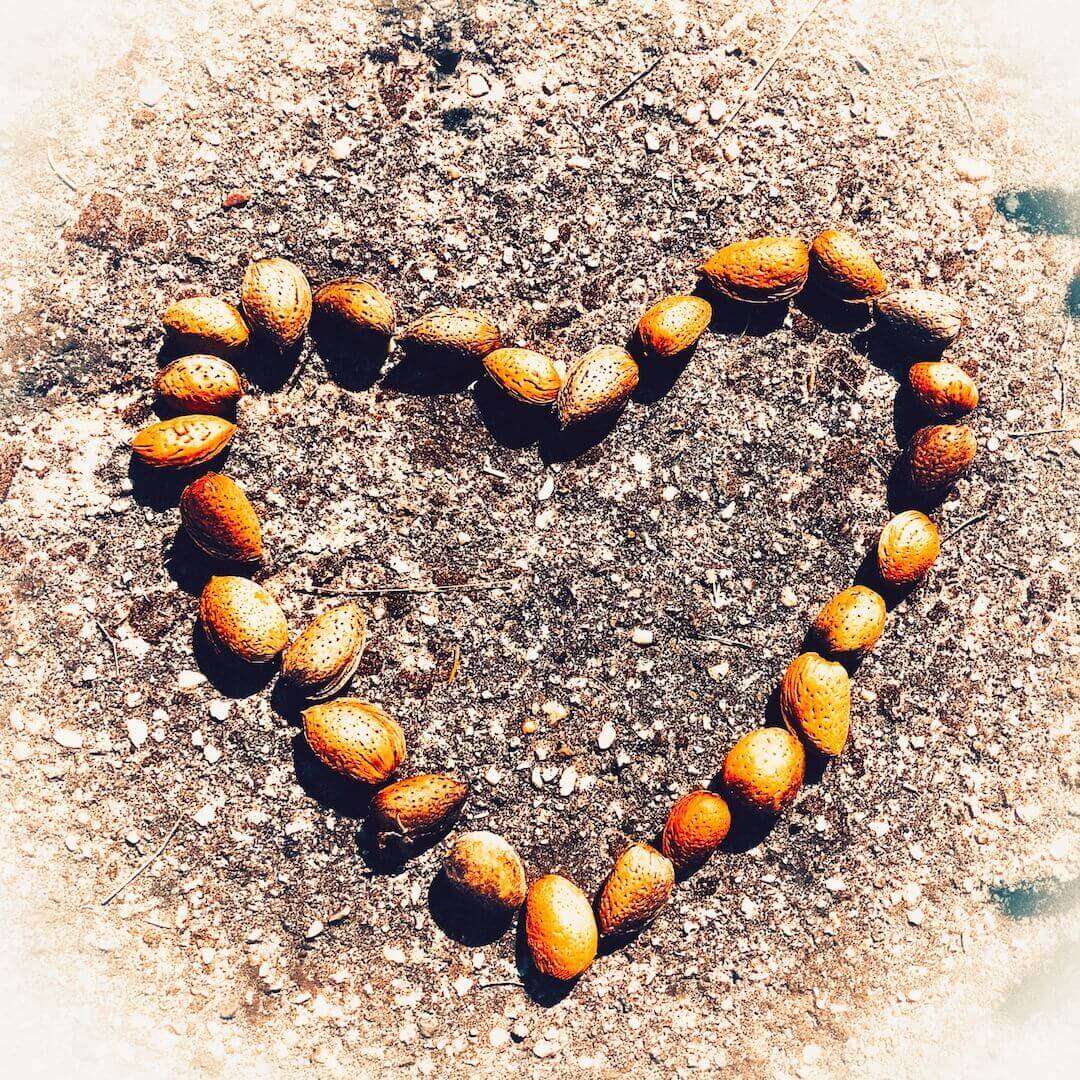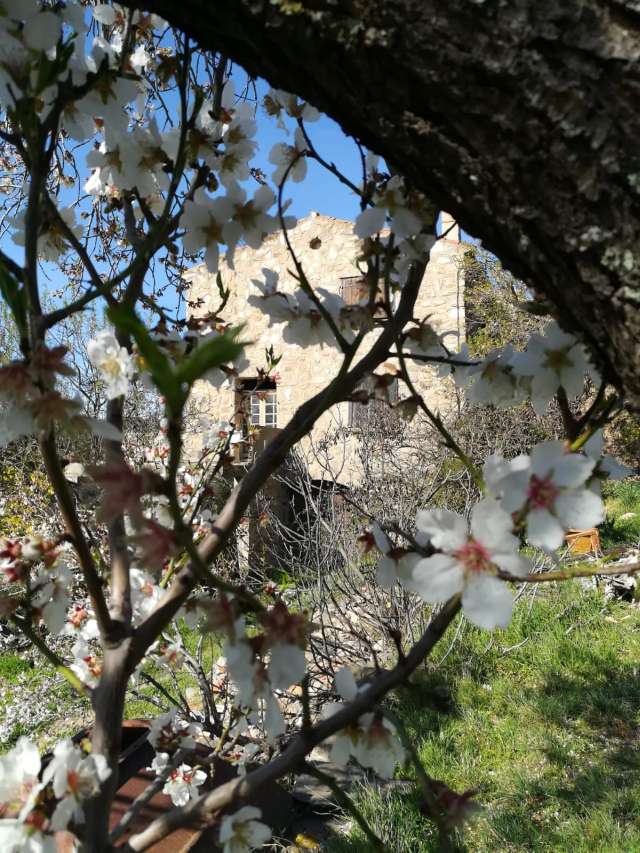 The almond tree (latin: prunus dulcis), originally from Asia, was brought to Europe via Persia over 2,000 years ago. Besides their valuable fruits, these trees are renowned for their low demands on the soil quality and a very low water requirement. The abundance of proteins, unsaturated fatty acids, fiber, vitamins, and minerals makes their fruits, the almonds, a superfood in our time. Their culinary versatility and especially their high nutritional value have led to steadily increasing production quantities since ancient times – globally.
Unfortunately, a large part of modern production takes place with a considerable waste of resources and the use of poisons in North America and in Australia.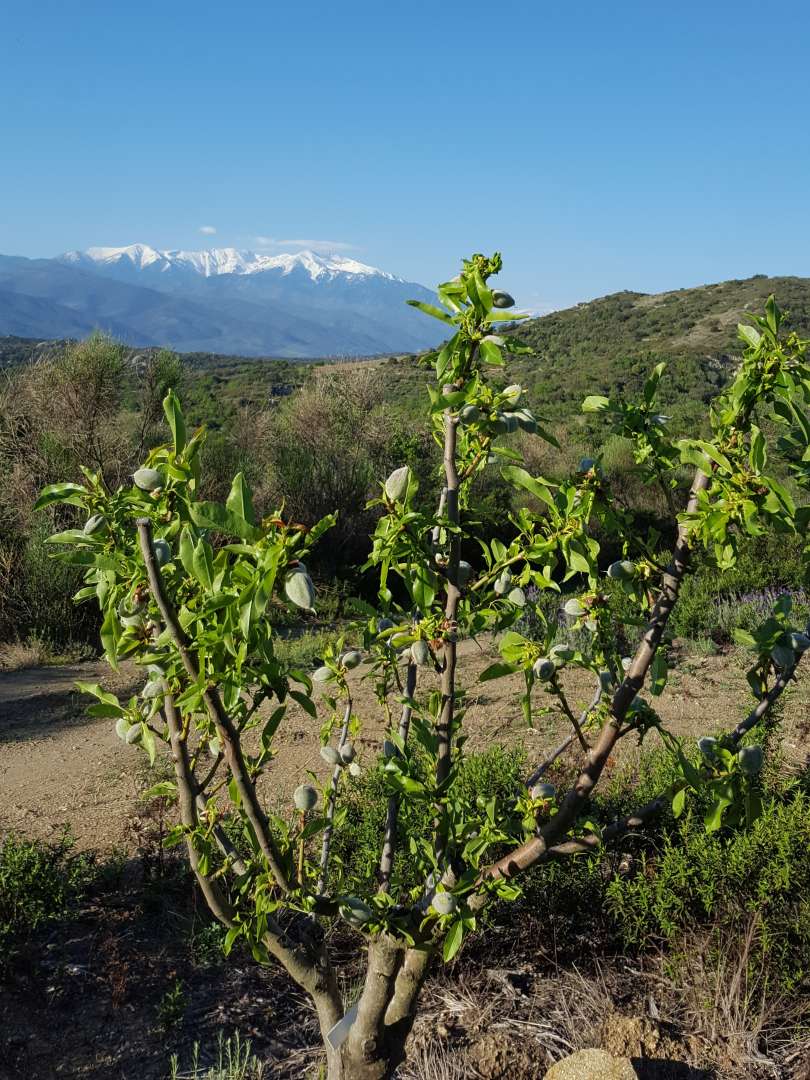 This aggressive and questionable practice has been squeezing European almonds out of the market for years, which is reflected in declining production quantities. We want to counteract to this development, even if only on a small scale.
Our goal is to produce almonds from extensive organic agriculture and dry farming. That means no artificial irrigation and no artificial fertilization. We are letting nature pursue its ways and are rewarded with flavor instead of quantity.
Do you know how beautiful it is when the almond blossom heralds spring in February?
No? Then subscribe to our newsletter and you will be among the first to admire images of this spectacle.
If you are interested in the health benefits of almonds, check out our blog!
Whether in our honeymoon suite or in one of the other fantastic apartments. The flair of a traditional southern French farmhouse surrounds you completely in Mas Baillette. Stay centrally on our historical terrain and enjoy the ambience of local living culture combined with hippiechic styling.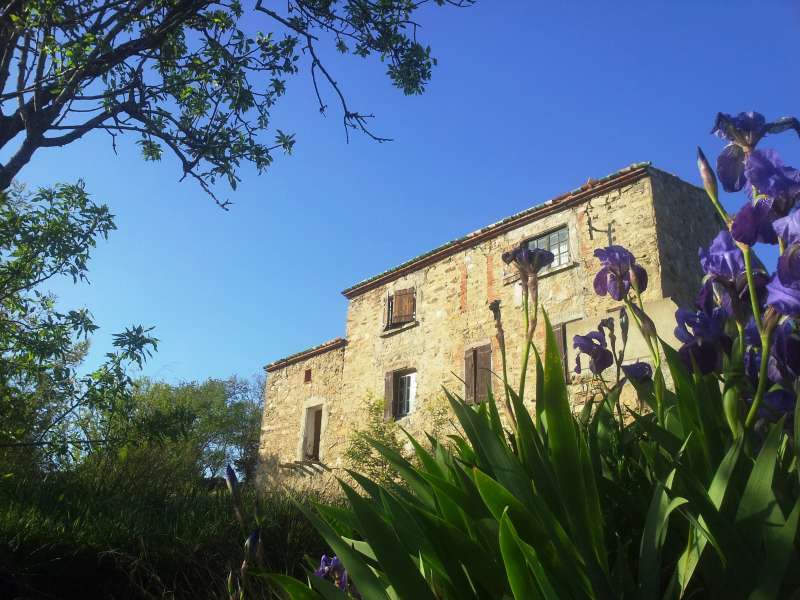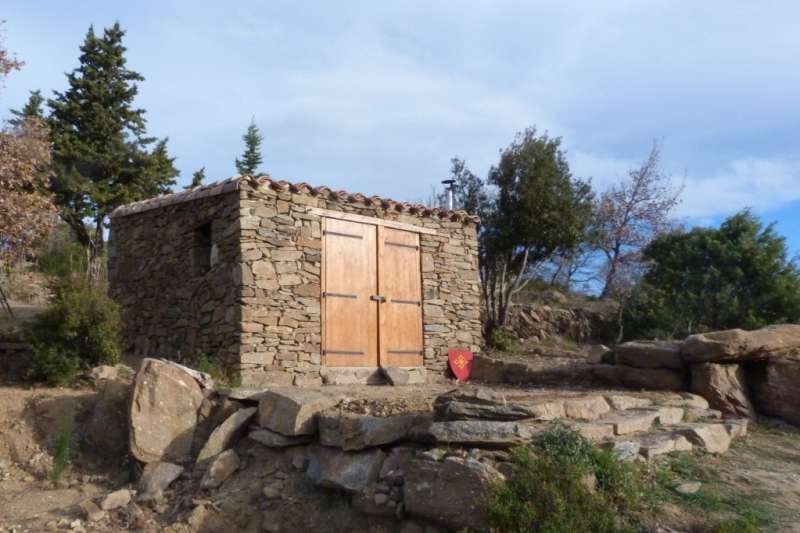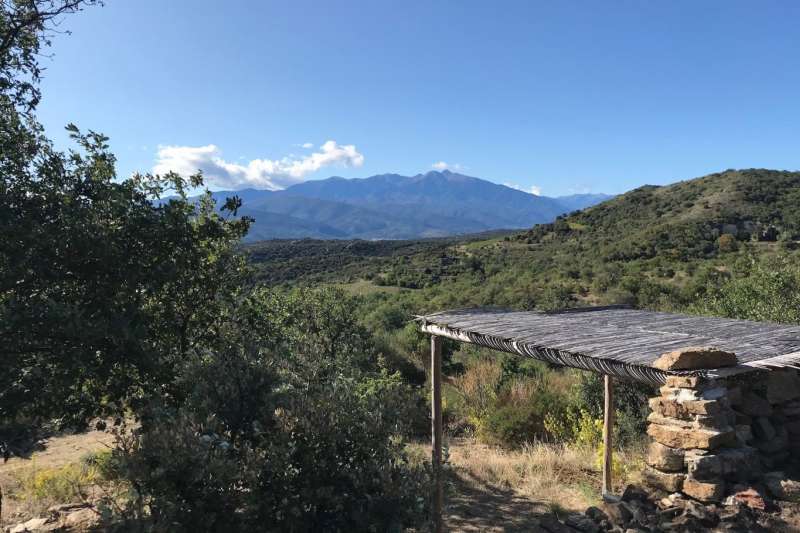 Exclusive natural stone huts
Our tiny houses: the place for your romantic weekend getaway or for a holiday close to nature. Lovingly restored, historic shepherd's huts (Catalan: casot) to house and hide you. Rustic and luxurious at the same time. Nobody bothers you here – and that with a 50km free spectacular of the Canigou and the Pyrenees. It's the ultimate from of "television" and the epitome of glamping.
Hidden yurts
An adventure for the whole family! Hidden in a small shady grove, you can escape the summer heat here. Your personal hideaway just a stone's throw from the pool. Your kids will definitely have something to
Camping close to nature
You can also simply spend a few days with us in your own camping bus or tent. We have more than enough space for you!
If you would like to know which of our accommodations are already available, just drop a message!
Or subscribe to our newsletter to stay tuned!
Retreating to silence and loneliness can provide incredible power to meet future challenges whilst at the same time it can assist in overcoming past efforts. In the vastness of our terrain you will find a lot of space and silence. Let the floating rustling of the wind and the pulsating chirping of the crickets be the soundtrack of your inner journey.
Our stone huts are spread out and hidden on our premises. Here you will find peace and seclusion. Small, hidden niches under old trees invite you to deepen conversations or just to tune in and meditate.
"It is the encounters with people that make our life worth living."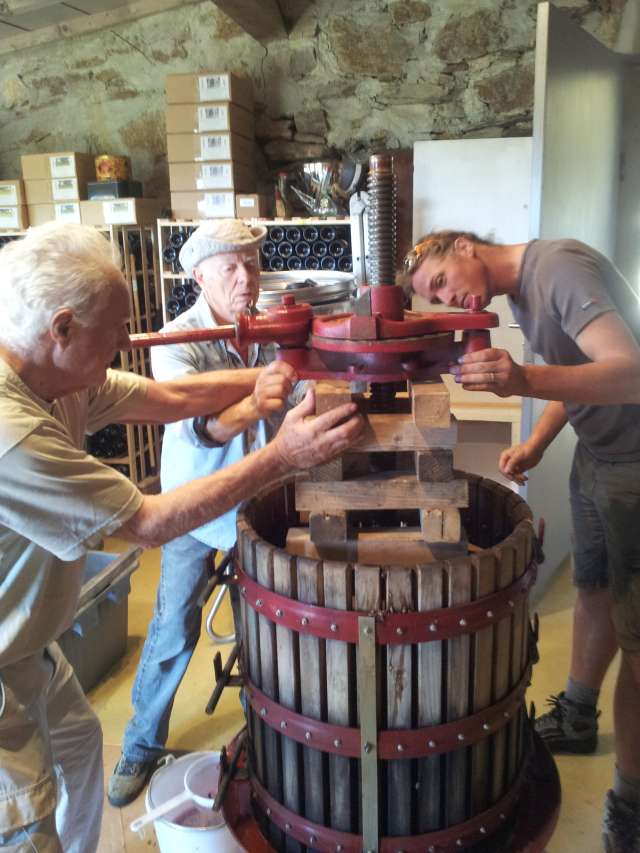 Meeting and sharing have always been two of the pillars that have enriched life and ensured human survival.
In order to create an appropriate forum for exchange, we are planning to create a large communal sun deck below the Mas Baillette with an ecological infinity pool and jacuzzi.
To escape the summer heat even better, there will also be a large common room with a co-working space at the Mas Baillette.
For conducting workshops and retreats, we will set up a shala for yoga and other activities. In addition, you will find many diverse spaces on our site that are inviting you to hang out or celebrate at your own pace.
"If you want to go fast, go alone, if you want to go far, go with others."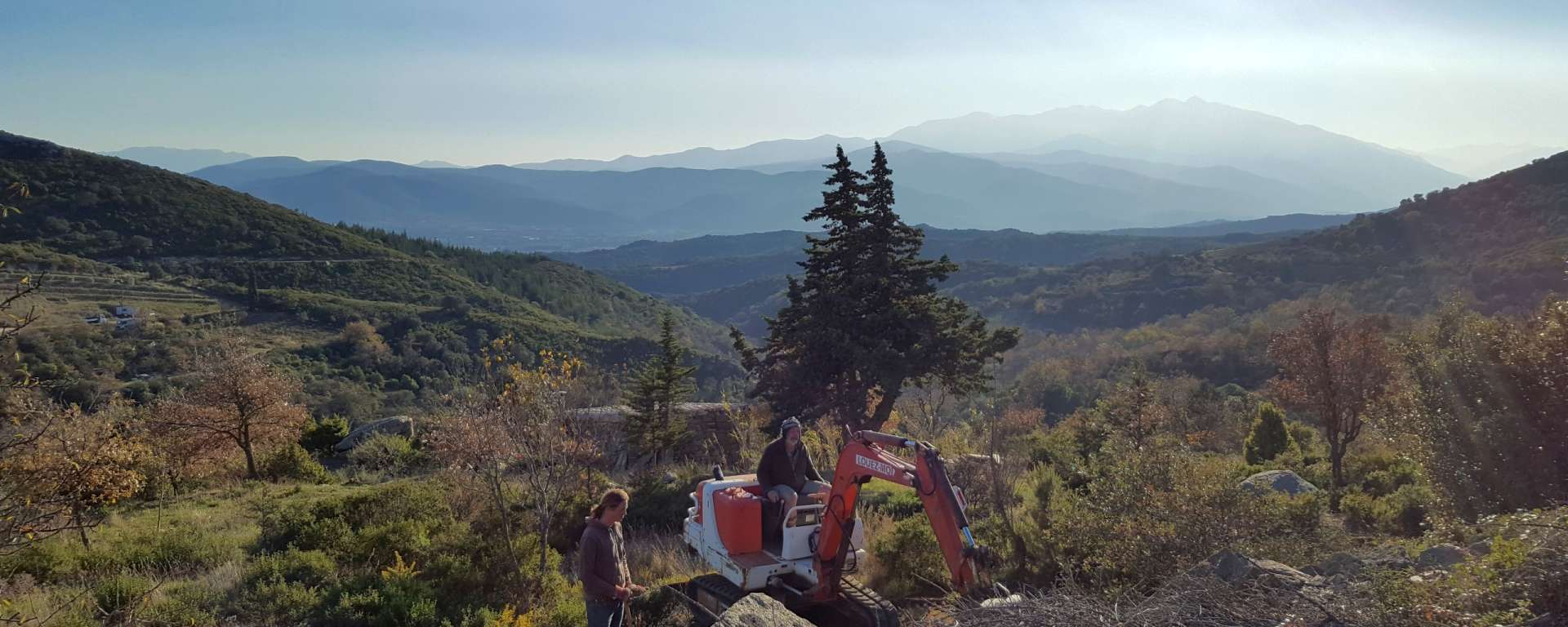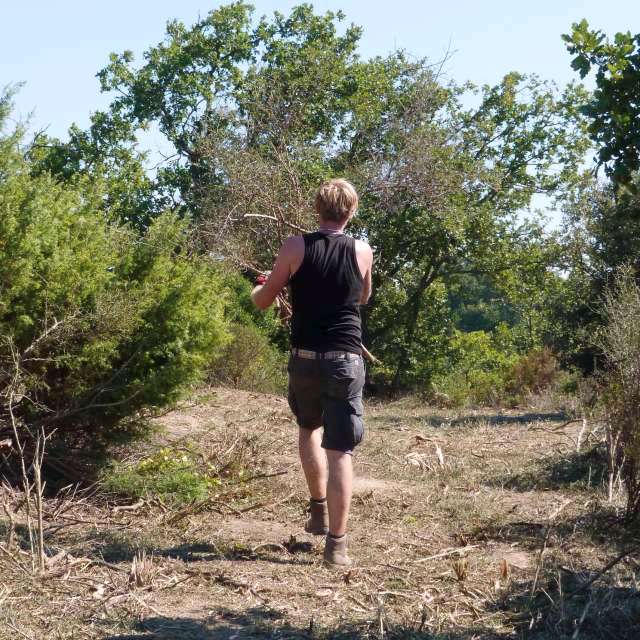 We are still at the beginning of our path.
We have learned a lot in the region in the past 20 "part-time" years that we would like to share while we are at the same time looking forward to learning from you.
What kind of tasks could you currently take on with us?
Landscape maintenance (bushing, pruning) and animal care
Dry stone walls: reconstruction of huts, creation and repair of terraces
Creation of paths and chill-out niches in the area
Extension of the vegetable garden, planting trees
In case that none of above missions excite you – just visit us anyway!
There sure is something to be found for you to do on site. In return for your commitment, you can live with us free of charge. We will also take care of your culinary well-being.
If you would like to spend a few days or weeks with us alone or in a group and support us in shaping our vision as a volunteer or WWOOFer just get in touch with our local team using this link.
And please subscribe to our newsletter to stay up to date!
What our first guetst say
Wer nach Ruhe, ein bisschen Abenteuer und (zweisame) Einsamkeit sucht, ist hier genau richtig. Wir hatten im Prinzip ein ganzes Tal/Hügel für uns allein. Eine kleine sympathische Schäferhütte, eingerichtet mit einem großen Doppelbett und einer kleinen Küchenzeile. Unsere Toilette verrichteten wir draußen in selbst gebuddeltes Loch ;-), geduscht wird im Meer oder einem Bach 😀
Die Lokation ist super geeignet zum Erkunden der Languedoc. Mietwagen ist dabei ein Muss. Mit Tagestouren haben wir Teile der Pyrenäen, heiße Quellen, Weinberge, Sandstrände, urige Bergdörfer und Hafenstädte erkundet. Wochenmärkte und historische Burgen zählten neben den freundlichen und offenen Menschen zu unseren Highlights/Lieblingserinnerungen.
Uns hat der Aufenthalt sehr gut gefallen. Das wohl größte unausgesprochene Kompliment ist, dass ich als City Girl (komme aus der 5 größten Metropole der Welt) nach anfänglichen großen Bedenken, nach schon 1.5 Tagen mich eingelebt und wohl gefühlt habe.
Unser Tipp:
Aus dem Super Plus in der nahegelegenen Stadt Ille-sur-Têt eine Schachtel frische Austern + Zitronen holen und diese an der Hütte zu einem lokalen Wein beim Sonnenuntergang mit Blick auf die Pyrenäen genießen. Mega geil!
Den lokalen Wein bekommt man ebenfalls im Supermarkt oder gleich direkt bei dem Weingut Calderoy, welches nur ca. 5 min mit dem Auto die Strasse entlang ist.
It is understandable that I was worried about staying in a hut without electricity, water tap, and people around me because I have never stayed in a remote place in a mountain in my life. However, it turned out that I love being in nature and taking adventure to find new spots with my husband.

Our days consisted of excitement during the daytime and stillness and peace in the morning and night. The province has pretty much everything cool such as hot spring in a mountain, the Mediterranean Sea, lake where you can swim, castles, small artistic French towns and oh yes, local marketplaces with delicious fresh oyster, bread, and winery. All places are easily reachable with a car.

Meanwhile it was so peaceful to wake up and enjoy the valley view with stillness and go to bed under the stunning milky-way and stars. The valley and the sky are all yours. Ah, you can gather some almond and berries there if you want. 😉
Relaxation in extensive nature far from noise and stress with a minimal ecological footprint!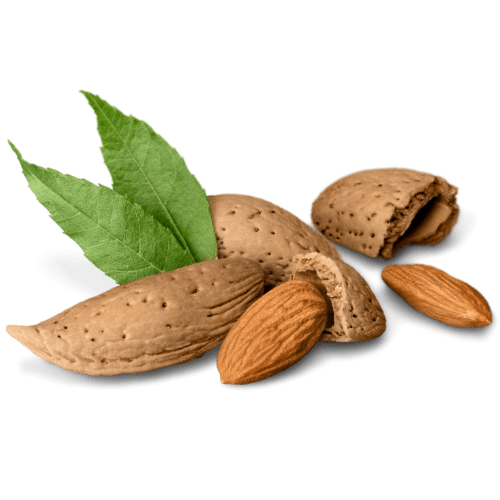 The Rousillon is an incredibly diverse holiday region that still fascinates me even after two decades!